2017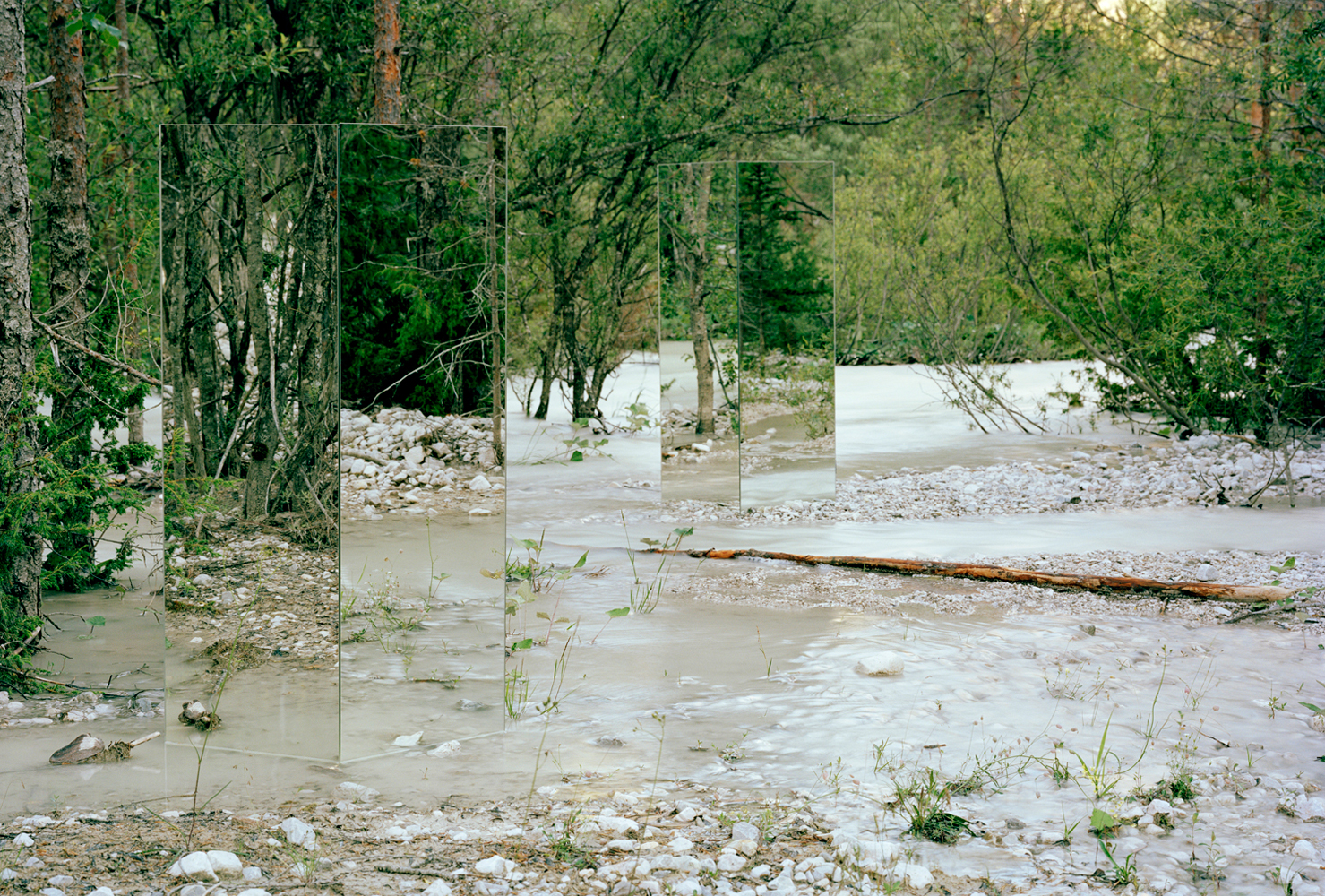 The mirror is an object like no other. The duplication it generates creates new relationships between entities, or between an entity and itself. Doubled. Tripled. Multiplied. It allows us to see a thing and its doppelganger discoursing, conversing. The mirror is the only object to offer a dialog: mirror, mirror on the wall, our everyday counterpart of the crystal ball. I take the mirror off the wall and bring it to where it never belonged, so it can answer questions yet unasked.
With mirrors, I rearrange space.
I fold the space of the chosen location upon itself, I form an anomaly that doubles the shapes and distorts the relations of objects. With mirrors, I slice a landscape thin and reshuffle the fragments to produce a new layout. The result is perceived in stages. The first step is to acknowledge the destruction. These images are not meant to be trompe-l'oeil, I intend for the dissection to be recognized. You see the borders which delineate the mirrors, the facets of the crystal ball we are questioning.
The next is to become aware of the new space and accept it. Then we go deeper in, looking to find what it is it now has to offer. We've deconstructed, and now our perception reconstructs. This new space, this projection of a divination globe onto the plane of the familiar scenery, creates a new maze-like territory. The glass of the mirrors lends this new world a delicate fragility, and the reflection in the sliced fragment turns the fragility into infinity.
And finally all the pieces of the puzzle must fall in place. What is it the rearranged space reveals, the image from the bits of mirror of the landscape ultimately reflected by the mirror of our eye? No disclosure ever declares itself unless lured out, so I entice it with mirrors, encouraging the fragments to form a new whole, grafting them onto different planes to open a doorway into the heart of another body. The mirrors have cajoled out something hitherto unseen, have tempted nature to disclose what used to be hidden; what it is remains up to the viewer. A crystal ball may tell things irrelevant to the pre-formed answers he who asks has in mind.
I am asking undetermined questions and getting unexpected answers.